Top 10 questions and answers about blepharoplasty: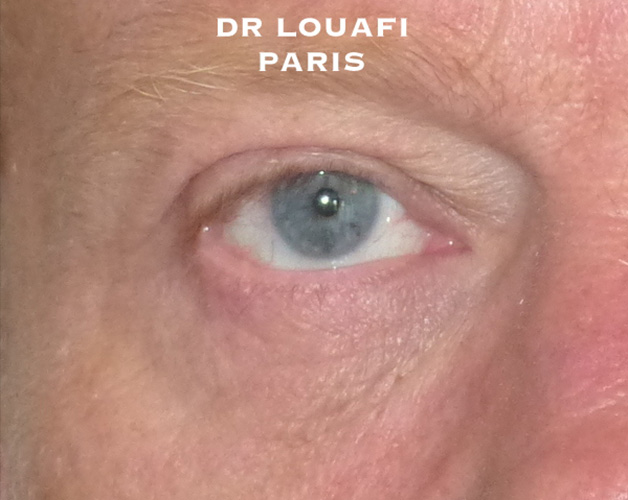 Blepharoplasty surgery, performed by a cosmetic surgeon in Paris is a straightforward operation which gives natural looking results. The operation involves a lift of the eyelids. The cosmetic surgeon in Paris, specialist in facial surgery invites you to discover the rates, fees and before/after photos for blepharoplasty surgery in Paris. A scar free procedure for blepharoplasty is possible for the lower lids. Please find here above a before/after photo of blepharoplasty surgery.
1 – What is blepharoplasty?
Blepharoplasty is an extremely popular cosmetic surgery procedure, where fat and excess muscle and skin are removed from the eyelids in order to counteract eyelid drooping and unsightly bags beneath the eyes.
2 – How long does the procedure take?
Blepharoplasty takes from 30 to 90 minutes.
3 – What is the length of the stay at the clinic for blepharoplasty?
The surgery is ambulatory (same day).
4 – What form of sedation is necessary for blepharoplasty?
Depending on the surgical acts to be performed, blepharoplasty can be done under general anesthesia, local anesthesia or local anesthesia with sedation.
5 – Is blepharoplasty surgery painful?
Blepharoplasty surgery is mildly painful. In most cases simple painkillers are enough.
6 – What scars result from blepharoplasty surgery? Is scar free blepharoplasty surgery possible?
For the lower lids, a cosmetic procedure that leaves no visible scar is possible in some cases. The scar is located on the inside of the lid and is thus not visible. If excess skin had to be removed, the scar will be under the eyelashes extending to the crows' feet area. For the upper lids the scar is located in the crease above the eyelashes making it practically invisible.
7 – What surgical procedure is necessary to obtain slanted eyes?
To have slanted eyes, one must undergo a lateral canthopexy which involves repositioning the outer corner of the eye.
8 – What is an oculoplastician?
Although there is no official definition for this term a lot of patients ask for one. An oculoplastician or an oculoplastic surgeon can be defined as a surgeon or a plastic surgeon specializing in facial surgeries which involve cosmetic procedures of the eyes and the eyelids. Dr Louafi, a plastic and cosmetic surgeon in Paris, is board certified to carry out cosmetic surgeries of the eyes.
9 – What are the risks inherent to blepharoplasty surgery?
Performed by a certified plastic surgeon qualified in plastic, cosmetic and reconstructive surgery in a certified plastic surgery clinic, blepharoplasty surgery is commonly practiced and is considered a reliable operation. Like in all surgery complications are possible but rare. These are listed in the information flyer of the French Society for Cosmetic and Plastic Surgery. If properly managed, complications leave little or no trace. Post operation monitoring is therefore indispensable. Dr Louafi takes care of the post-operative monitoring of his patients.
Specific risks will be detailed and explained during the consultation.
10 – How much does blepharoplasty cost?
The fees for blepharoplasty vary depending on the how much needs to be done, whether or not blepharoplasty and/or Botox injections will be associated to the procedure, mode of anaesthesia among other factors. Very high quotes on the one hand do not necessarily guarantee the best results and suspiciously low quotes on the other hand should incite caution. It is of utmost importance to always verify the qualifications and competences of the plastic surgeon, his titles, his cv, his certification by the board, his ability to practice, what post operation care is included in his quote (who by, where, for how long…).Plastic surgery is strictly regulated in France. This surgery is not covered by the social security and the cost for this cosmetic procedure will not be reimbursed.
As an indication, facelift fees start at 1900 euros. The personalized quote concerning the procedure that is given to the patient during pre-operation consultation is contractual and binding. Please find all the rates for cosmetic surgery with Dr Louafi on this website. (Estimated rates from…).