Top 10 questions and answers about Gynecomastia surgery: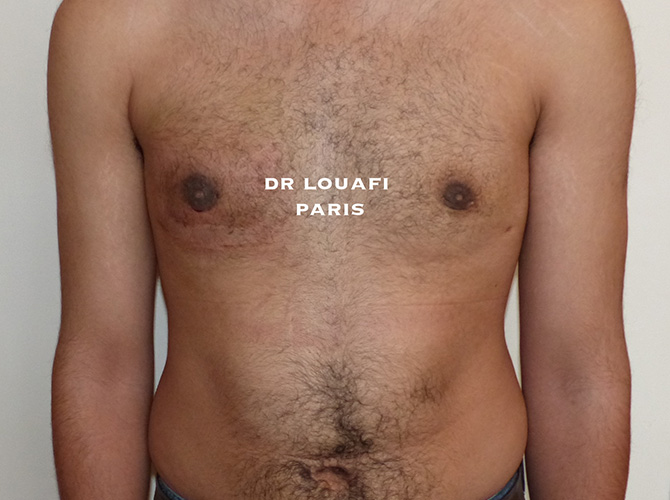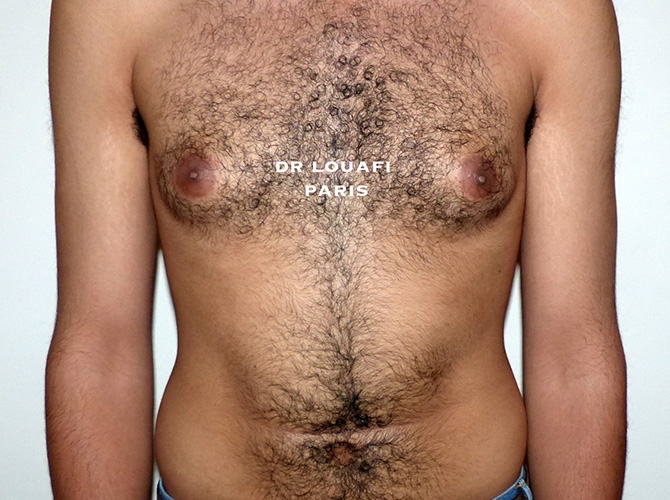 Surgery for the correction of masculine gynecomastia, if performed by a cosmetic surgeon in Paris is a relatively common and fairly simple operation for men. Gynecomastia surgery in Paris involves the removal of the excessive mammary glands in men. A cosmetic surgeon in Paris, specialist in mammary surgery invites you to discover the rates, fees and before/after photos for gynecomastia correction in men. To correct male gynecomastia, real gynecomastia must be differentiated from false gynecomastia.
1 – What is gynecomastia?
Gynecomastia is the development of abnormally large breasts on men. This can be on one or both breasts and can be symmetrical or not. Real gynecomastia is in relation to the size of the mammary gland while false gynecomastia is related to fat.
2 – What does the treatment of gynecomastia consist of?
Treatment of gynecomastia involves the removal of any glandular tissue present in the breast. Liposuction is then used to remove any excess fat.
3 – Can real gynecomastia be treated without surgery?
Excessive glandular tissue resulting from real gynecomastia cannot be removed from the breast for analysis without surgery.
4 – How long does gynecomastia surgery take?
Gynecomastia correction surgery takes about an hour.
5 – What is the length of the stay at the clinic?
The surgery is ambulatory or 1 night.
6 – Is gynecomastia surgery painful?
Gynecomastia surgery is mildly painful. In the majority of cases simple painkillers like Doliprane are enough. The operation takes place under general anaesthesia so you will not feel anything during the surgery.
7 – What scars result from gynecomastia treatment?
In most cases, the treatment of gynecomastia may result in a single scar at the bottom half of the areola (peri-areolar scar). Sometimes a scar all around the areola may be necessary to remove excess skin and re-drape it.
8 – What are the risks inherent to gynecomastia correction surgery?
Performed by a board certified plastic surgeon qualified in plastic, cosmetic and reconstructive surgery in a certified plastic surgery clinic, cosmetic treatment of gynecomastia is commonly practiced and is considered a straightforward operation. Like in all surgery complications are possible but rare. These are listed in the information flyer of the French Society of Cosmetic and Plastic Surgery. If properly managed, complications leave little or no trace. Post operation monitoring is therefore indispensable. Dr Louafi takes care of the post-operative monitoring of his patients.
Specific risks will be detailed and explained during the consultation.
9 – Does gynecomastia correction surgery increase the risk of breast cancer?
The risk of breast cancer is not increased by this surgery. On the other hand, unilateral gynecomastia (on one side) may on rare occasions be a sign of breast cancer.
10 – How much does it cost? Does the social security reimburse gynecomastia correction?
Reimbursement by the social security is only possible under certain conditions and only for real gynecomastia. The treatment is covered only after analysis of the endocrine system after puberty, for acknowledged gynecomastia that may cause psychological and sexual problems (particularly asymmetric gynecomastia, painful with areolar distension). Only the surgeon is authorized to present your case for reimbursement. In this case the charges for the clinic will be paid in full by the social security. You will be left with the complementary surgeon and anaesthetist's fees, which may be fully paid by your mutuelle depending on your contract with them. The complementary fees for surgery vary (Rates from 3000 euros) and may be fully settled by your mutuelle. You may not have to pay anything, depending on your case, even if the operation takes place in a private clinic. Please find all the rates for cosmetic surgery with Dr Louafi on this website. (Estimated rates from…).
In conclusion, gynecomastia surgery is a sure operation which gives very good to excellent results in a majority of the cases in terms of functional benefits both physical and psychological. Like for all surgery it presents a risk of complications even though the risk is very low when the operation is performed meticulously and professionally. One must therefore ensure that they choose a qualified board certified cosmetic and plastic surgeon who will not only perform the surgery but will also ensure post operation monitoring. A surgeon who will accompany you all through the process: before, during and after the operation.